Berkeley College Foundation 5th Annual Golf Outing Raises Funds For Student Scholarships
June 27, 2022
See the Photos: Click here to view all of the photos from the Berkeley College Foundation's 5th Annual Golf Outing.
More than 90 community and business leaders came together on Wednesday, June 8, 2022, to support the Berkeley College Foundation in its mission to provide scholarships and support for student success. The Berkeley College Foundation's 5th Annual Golf Outing, its largest fundraising initiative of the year, was held at Crystal Springs Golf Course in Hamburg, NJ.
"The Berkeley College Foundation thanks all of the golfers, sponsors, and volunteers who invested in the futures of Berkeley College students," said Ellen Zitis, Executive Director, Berkeley College Foundation. "Since its inception, the Berkeley College Foundation has awarded more than $110,000 in scholarships. Because of the success of this year's Golf Outing, we can continue to provide support to students as they pursue their academic goals."
The 5th Annual Golf Outing featured a shotgun start, a live auction, and a luncheon, with awards for best score, hole in one, longest drive, and closest to the pin.
Platinum sponsor: Ai Media
Gold Sponsors: Lakeland Bank, Sunrise Mart, and TD Bank
Silver Sponsor: New York City Football Club
Bronze Sponsors: IDK Cooling and Lincoln Property
Lunch Sponsors: Best Trails & Travel and Pagano Real Estate
Breakfast Sponsors:KM Associates of New York, Inc., Marsh McLennan, and Summit Health/City MD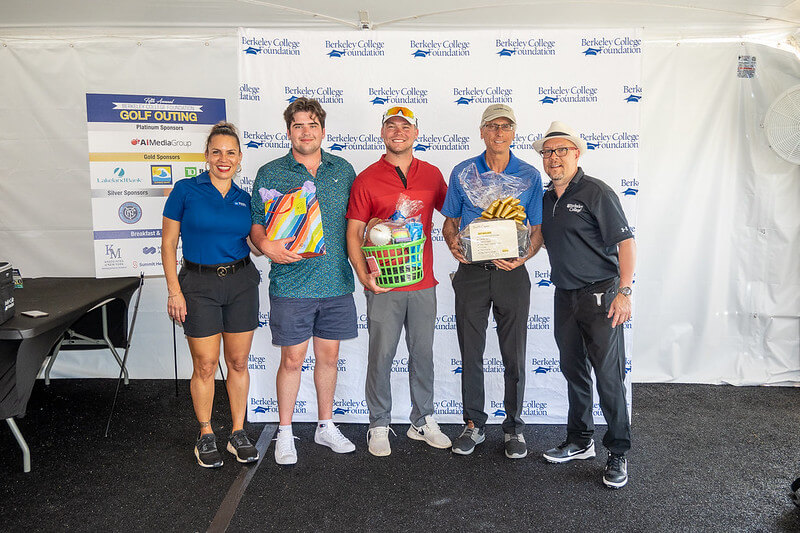 About the Berkeley College Foundation
The mission of the Berkeley College Foundation (BCF) is to provide support and resources to students pursuing quality experiences in higher education. Scholarships are awarded to current and prospective students to help defray the cost of tuition and to enhance participation in educational enrichment activities. The BCF also awards grants to other worthy educational institutions and nonprofit organizations. In addition, the BCF launched on-campus food pantries at Berkeley College campuses in Newark and New York City, establishing a much-needed resource to address the growing economic and food insecurity challenge in higher education. The BCF also provides a subsidized MetroCard program. Based in New Jersey, the charitable organization received 501(c) 3 status in 2015. Visit www.BerkeleyCollegeFoundation.org.